Artillery was formed in June 1982 in Taastrup, a suburb to Copenhagen, by drummer Carsten Nielsen and guitarist Jørgen Sandau. After trying out several musicians, the line up finally became: guitarists Jørgen Sandau and Michael Stützer, bassist Morten Stützer, drummer Carsten Nielsen and lead singer Per Onink. Per Onink left soon after, and was replaced by singer Carsten Lohmann.
The group then recorded the demos "We Are the Dead" in 1983 and Shellshock + Deeds of Darkness in 1984.
Artillery's first professional debut came in early 1985 with the inclusion of the song "Hey Woman" on Volume One of the Speed Metal Hell compilation series which was released by New Renaissance Records.
Later that year, Carsten Lohmann left and was replaced by Flemming Rönsdorf. Later the same year, Artillery recorded a third demo, Fear of Tomorrow, signed with Neat Records, and released their first album, also titled Fear of Tomorrow. In 1986, Carsten Nielsen was contacted by Quorthon of Bathory asking him if he was interested in drumming for Bathory. Carsten Nielsen declined the offer, since he thought Artillery would become a much bigger band than Bathory. Their second album, "Terror Squad", was released in 1987.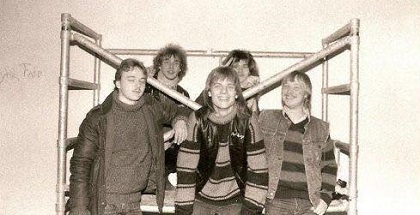 The original 1982 line-up. 1982. John Kluge.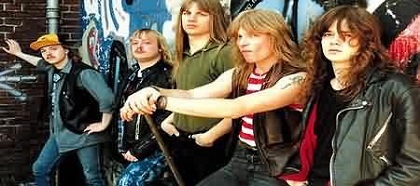 "Terror Squad" line up. 1987. John-Son.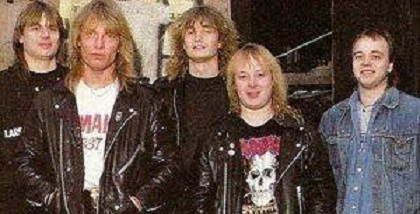 "By Inheritance" line-up. 1989. John-Son.

It is a little known fact that Artillery shared rehearsal rooms – and frequently jammed with Mercyful Fate and Metallica during this period. Morten recollects the late Cliff Burton jamming on his bass for several hours.
Guitarist Jørgen Sandau left the band in 1989. Bassist Morten Stützer took over the guitars, handing over the bass to Peter Thorslund. Their third album, "By Inheritance", was released in 1990 on both LP and CD, by Roadrunner Records. Artillery disbanded in 1991, some of the members pursuing musical projects of their own during the rest of the 1990s. A video of Missing Link's Lobotomized, from the album of the same title, can be found in the media section of this site, featuring Morten and Michael.
After the 1998 release of an Artillery compilation CD (the first of its kind by the band), "Deadly Relics" by label Mighty Music, featuring a mix of old demo recordings and two songs from the 1989 promotional tape, the band decided to reform as a trio (Flemming, Morten and Michael), to record a fourth album, "B.A.C.K", which was released in 1999 by Die Hard Music, which was followed by a few concerts, big German festival W.A.C.K.E.N. being one of them. Then in 2000, Artillery decided to split up again.
In 2007, the band released a limited edition 4-CD boxset entitled "Through the Years" on the polish label Metal Mind Productions, which contains the band's four studio albums complete with demos from the respective time periods. The artwork contained rare photos. The box-set was only produced in 1.500 copies.
On November 6, 2007, Michael confirmed on the newly started official Artillery website that they were once again active. However, longtime Artillery singer Flemming Rönsdorf did not participate. On November 27 the same year, it was confirmed that singer Søren "Nico" Adamsen would be the new frontman. This line-up continued to record two albums – "When Death Comes"from 2009 and "My Blood" from 2011. They toured extensively and also released a live DVD and live album, both entitled "One Foot In The Grave – The Other In The Thrash" (2009).

On April 12, 2012, drummer Carsten Nielsen announced that he was leaving the band after a U.S.A./South America tour in May that year. On September 26 the same year, it was also announced that Søren Adamsen had left the band. He was replaced by singer Michael Bastholm Dahl.
The new Artillery began recording a new studio album in February 2013, and it was released on Metal Blade in on November 26, 2013. The album was called "Legions" and two music videos was shot to accompany the album. On October 7, 2013, Metal Blade released the first video single from Legions in the form of the track "Chill My Bones (Burn My Flesh)".
Legions was followed three years later by "Penalty by Perception". The album was released on a limited digipak CD, a regular CD and on vinyl. It features music videos for the tracks "Live by the Scythe" and "When the Magic has Gone". Both can be seen in our media section.
2017 was a relatively uneventful year seen from a songwriting perspective. That did not, however, stop Artillery froum touring extensively around the world. They visited North- and South America, Asia, Europe and even the Middle East and Russia.
At the start of 2018, Artillery went to Medley Studios, Copenhagen once again, this time to record "The Face of Fear". The album, which was released in ultimo 2018 to generally positive reviews, saw a re-recording of one of the earliest entries to the bands repotoire with the track "Mind of No Return", a track that was previously unreleased, seen only on their first 1982 demo.
For "The Face of Fear, two videos were shot - one for "Pain" and on for "The Face of Fear". A semi-official video for "Sworn Utopia" also exists. All are avaiable in the 'media' section of the site.
On October 2nd, 2019, founding member and brother of Michael Stützer, Morten Stützer, passed away at age 52. Many of Artillery's compositions can be accredited to Morten, for example 'Khomaniac' from the 1990 album 'By Inheritance'. The band's future efforts are be dedicated to Morten.
Later in 2019, former session guitarist Kraen Meier took over the spot as the second guitarist thereby becoming full time member of the band.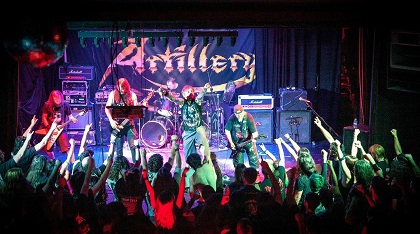 Live in concert in 2012. Elena Marco.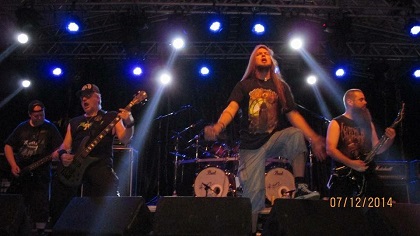 Live in concert. 2014. John-Son.